About the Sacred Heart Academy Gorakhpur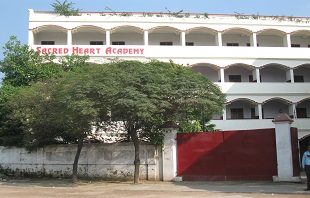 Sacred Heart Academy was founded as a kinder-garten school in 1996 , It was housed in a private building located at Dharampur crossing , Shahpur, Gorakhpur .
It started with 15 children on the rolls. Subsequently, It was upgraded to primary and middle level and shifted to the present site on 11th December 2003 Sacred Heart Academy (SHA) , Shahpur Gorkhpur 273014 is presently situated at Gorakhpur -Pipraich Road at a distance of about 500 meters from Geeta Vatika. The school is an English medium
Co-Educational Senior Secondary School. It is Affiliated to Council for the Indian School Certificate Examination, New Delhi, vide its letter No. U.P.229 .
It prepares children for the Indian School Certificate of Secondary Education (ICSE) at the end of Class X and Indian School Certificate (ISC) at the End of Class XII. The School aims at inculcating scientific temper and instilling Indian culure in personality of the children of the school so that they mey understand the significance of their lives to themselves and to others, which is the basic architecture of life.
We want our children to grow and develop into responsible,borad minded and disciplined human beings in the sea of humanity with full self-esteem but no false pride.